Activism and awareness through art and creation
Pins, stickers, patches and more promoting LGBT culture and rights.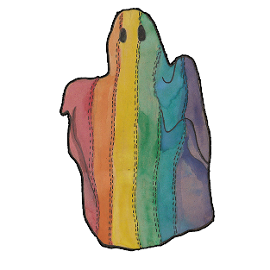 NOTICE: Our online store is currently closed. I apologize for the inconvenience. If you are looking to order, please email sebastianmcgaughey@gmail.com
About Us
Art Class Rebel is trans-owned and operated in Ontario by Sebastian, an intersex trans-man and artist. Almost everything is made by hand and everything is designed by Sebastian, either through watercolour or digital art.
Art and creation were a lifeline for me at 14, when I began to realize that I'm trans and queer. I wrote poems, I wrote songs, I embroidered, I painted - I did everything I could to express how I was feeling. And I still do.
I created Art Class Rebel so that I could share my art with others, and so that I could spread awareness and spread the magic of the LGBT community. We are here, we always have been, and our existence is beautiful.
10% of all purchases from Art Class Rebel goes to support Rainbow Railroad, a Canadian Charity helping LGBTQ people escape persecution and violence in other countries. To find out more, visit our FAQ page.
We currently carry posters, buttons, patches, enamel pins and art cards. Keep your eyes peeled for much more to come, including zines and screen-printed t-shirts. We are also looking to collaborate with other LGBT+ artists and creators in the very near future.